I'm in my 7th month of pregnancy which it seams (haha) is much like my first trimester. Tired, painful and the lack of ability to sleep come 4 am. Such as it is, this is a very productive time in my day. I get up, answer Etsy convos that came to me late last night, look at new fabrics and veg. This morning I was perusing the
Riley Blake Blog
for new fabrics when I came across a post about
Cutting Corners
. It seems that I have stumbled upon yet another source for free quilt patterns. But alas after looking, they have a lot more than quilt patterns. So far I have discovered FREE tutorials on
key fobs
,
children's clothes
,
a table runner
, a
zipper flower
and so much more. These are some of the designs I already love!!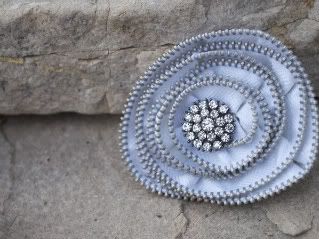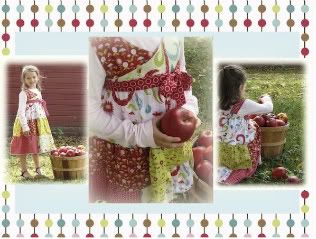 Even more, with this adorable girls dress (and other patterns), they actually have the pattern pieces there for you to print out. These tutorials are very detailed. The instructions and explanations of fabrics, cutting and technique are just what we all need. Sure, I'm a good seamstress, but there is a ton of room for improvement and better technique.
There's also a "Rotary Club" where they review useful sewing tools and that's where I discovered this little ditty, the
Skip Stitch
.
Just put on your rotary cutter and you can run this little bugger along the edge of fleece, flannel or other fabric to create slits for your over-edge finishing with crochet or knitting or whatever else your little heart desires. Talk about cutting corners. I can imagine there are several ladies out there using scissors or a knife for this very task. Here is a cute blanket I found on Etsy thanks to
Heart2HeartStitchery
with a gorgeous crocheted edge ....and it's made out of flannel Riley Blake fabric. How fantastic is that??
My mom makes these blankets for each of her grandchildren and I'd love to post a pic of one of those, but did I mention that it's 4 am and my children are nestled all snug in their beds?
Thankfully it's Sunday. I'm looking forward to taking a nap this afternoon while hubby reads his Sunday paper and looks after my precious daughters while I lay dreaming of wonderful new fabric and the many ways to use it. As always, thanks for reading:)
Nighty night.
~Jayna